Documentation
More About Product
Product features
material: premium plus carbon steel
drop forged, entirely hardened and tempered
the cutting edges are induction-hardened to 61HRc
head surface finish: finely ground
surface finish: phosphated to standard ISO 9717
made according to standard ISO 9242
Advantages:
the precise form of the joint enables the automatic opening of the pincers in a horizontal position, so the force is applied only during cutting of the wires
Usage:
useful for the binding and cutting of wires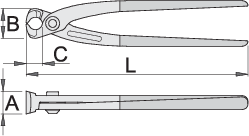 * Images of products are symbolic. All dimensions are in mm, and weight in grams. All listed dimensions may vary in tolerance.
Ergonomic handles

With ergonomic handles and a specially designed grip, surface Unior pliers provide maximum comfort at work and high efficiency with minimum strain.

Surface protection

The pliers are made of excellent steel with special improved composition. Several models come with additional chrome surface protection.

High precision

With their perfect design and technological superiority, Unior pliers ensure a high precision hold in any instance of general or dedicated use.