Multifunctional electricians pliers, anniversary
Product attributes
material: premium plus carbon steel
drop forged, entirely hardened and tempered
cutting edges induction hardened
surface finish: chrome plated according to ISO 1456:2009
heavy duty double - component handles
Advantages:
ergonomically shaped handle
Extra strong grip - the design and shape of the handles give the hand more leverage during use, enabling more stability and safer transmission of force.
Multi-toothed jaw prevents slipping and enables a better grip of cables, wires etc.
Usage:
Winding hard wire and bending rings up to Ø 3.5 mm. Rings can be bent to the right or to the left, since the tool has appropriate teeth on both sides of the jaw.
The ground part of the jaw is intended for gripping objects with sensitive surfaces.
The pliers can be used for crimping insulated spade terminals.
Stripping off insulations from Ø 2.2 mm to Ø 3.0 mm.
Stripping off insulations from Ø 3.5 mm to Ø 4.0 mm.
Cutting wires from Ø 2.2 mm to Ø 4.0 mm.
Crimping cable terminals up to Ø 4.0 mm.
Profiles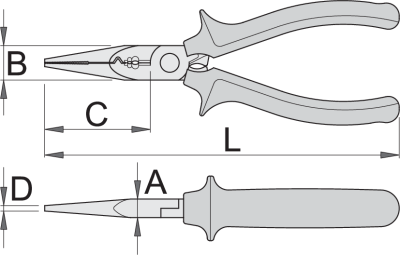 * * Images of products are symbolic. All dimensions are in mm, weight in grams.
Welcome to latest catalogue of Unior hand tools!
Together with the standard line of Unior tools we present two new groups: pneumatic tools and bicycle tools.