Long nose pliers with side cutter and pipe grip, bent
Product features
material: premium plus carbon steel
drop forged, entirely hardened and tempered
cutting edges induction hardened
surface finish: chrome plated to standard ISO 1456:2009
heavy duty double - component handles
made according to standard EN 60900
Advantages:
the long bent jaws enable simple and precise clenching of nuts and screws
the strong jaws enable good grip
jaws bent to an angle of 45°
gripping surface serrated
Standards
EN60900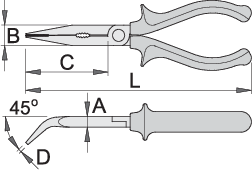 cutting capacity (10N=1kg)
| | | | |
| --- | --- | --- | --- |
| 610438 | 170 | 1,6 | 2,0 |
| 610439 | 200 | 1,8 | 2,5 |
* Images of products are symbolic. All dimensions are in mm, and weight in grams. All listed dimensions may vary in tolerance.
Ultimate protection

Unior insulated VDE tools ensure ultimate protection even when used around live circuits with up to a 1000-volt potential. The utility of all tools is thoroughly verified by means of the impact strength, electrical, flame-retardancy, insulation adhesion and stamp tests, with each tool being tested individually.

High-quality steel

Insulated wrenches, pliers, shears, screwdrivers and other tools for working with electrical and other power installations are made of high-quality tool steel with added protection, and designed for simple and safe use.

VDE regulations

VDE insulated and tested according to the VDE regulations, Unior tools for work in electrically live environments meet the requirements of the internationally acknowledged European EN 60900 standard.