Documentation
More About Product
Product features
material: premium plus carbon steel
drop forged, entirely hardened and tempered
cutting edges induction hardened
surface finish: chrome plated to standard ISO 1456:2009
heavy duty double - component handles
made according to standard ISO 5749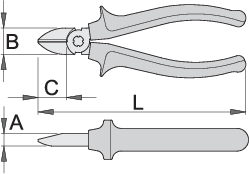 cutting capacity (10N=1kg)
| | | | |
| --- | --- | --- | --- |
| 607883 | 140 | 1,6 | 2,0 |
| 607884 | 160 | 1,6 | 2,5 |
* Images of products are symbolic. All dimensions are in mm, and weight in grams. All listed dimensions may vary in tolerance.
Questions & Answers
What does it mean that the pliers are quenched and tempered and the head parts/teeth of the pliers are inductively hardened?

It means that the pliers are thermally processed by quenching and tempering their entire surface to a hardness of about 45HRc, while head parts are additionally inductively hardened to a hardness of at least 60HRc.

What is meant by the statement that pliers are made in accordance with the stated ISO standard?

It means that the pliers are in accordance with the international standard in terms of dimensions, strength and structure, and compliance is determined by prescribed tests.
Ergonomic handles

With ergonomic handles and a specially designed grip, surface Unior pliers provide maximum comfort at work and high efficiency with minimum strain.

Surface protection

The pliers are made of excellent steel with special improved composition. Several models come with additional chrome surface protection.

High precision

With their perfect design and technological superiority, Unior pliers ensure a high precision hold in any instance of general or dedicated use.