Variable joint "HYPO" pliers
Product features
material: premium chrome vanadium steel
working surfaces induction hardened
surface finish: chrome plated according to ISO 1456:2009
heavy duty double - component handles
drop forged, entirely hardened and tempered
Advantages:
The Hypo pliers are self-adjusting for which it is not necessary to preset the width of the jaws.
one hand self-adjusting operation
The pliers adapt perfectly to the work piece.
maximum jaw aperture up to Ø40 mm.
The locking mechanism enables easier storage when the pliers are not in use.
Documentation
More About Product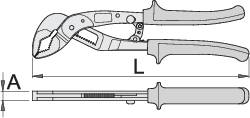 * Images of products are symbolic. All dimensions are in mm, and weight in grams. All listed dimensions may vary in tolerance.
Numerous additional parts

The range of pipe wrenches is complemented by other tools dedicated to pipe-work installations, such as various tube cutters and vices, flaring tools, test pumps for pipe-work.

Ergonomic shape

The special grip pipe wrench, thanks to its ergonomic shape, always fits in your hand perfectly while performing a firm, non-slip clasp on tubes regardless of their shape or width.

Easy installing

Unior pipe and tubing tools allow safe and efficient installing of plumbing systems, as they transfer much of the additional force onto the pipes and provide a strong and steady hold without nuts or bolts.