Quick coupler pliers for fuel pipes
Product features
material: premium plus carbon steel
surface finish: chrome plated to standard ISO 1456:2009
heavy duty double - component handles
for disconnecting fuel pipes
Advantages:
How to use the tool:
This tool is used for the removal of the quick couplers that connect fuel lines. The tool has two hardened pins in the jaws that compress the couplers during removal or repair (the hose can then be removed). The jaw is dimensioned and adjusted to enable safe and easy work with great force in a limited space.
Used for:
Opel/Vauxhall, Fiat, GM, VW, Renault etc.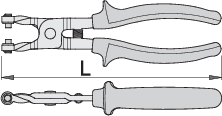 * Images of products are symbolic. All dimensions are in mm, and weight in grams. All listed dimensions may vary in tolerance.
Ergonomic handles

With ergonomic handles and a specially designed grip, surface Unior pliers provide maximum comfort at work and high efficiency with minimum strain.

Surface protection

The pliers are made of excellent steel with special improved composition. Several models come with additional chrome surface protection.

High precision

With their perfect design and technological superiority, Unior pliers ensure a high precision hold in any instance of general or dedicated use.