Multi-function scraper with blade guard
Product features
blade from high alloy steel
This tool is designed for scraping off dirt stuck to various surfaces. Due to its large working surface, the tool scrapes uniformly across the entire surface. It is suitable for removing silicon putty from motor heads, baked-on seals, vignette, etc.
Documentation
More About Product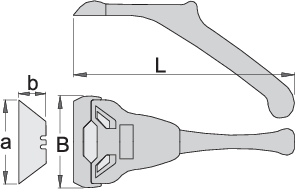 * Images of products are symbolic. All dimensions are in mm, and weight in grams. All listed dimensions may vary in tolerance.
Surface protection

Tools are made of excellent steel improved composition. Several models come with additional chrome surface protection.

Ergonomic handle

With ergonomic handles and a specially designed grip, surface Unior pliers provide maximum comfort at work and high efficiency with minimum strain.

High precision

With their perfect design and technological superiority, Unior automotive tools ensure a high precision hold in any instance of general or dedicated use.