Rear windscreen wiper arm remover
Product attributes
material jaws: chrome vanadium
for removing rear windscreen wiper arms
Advantages:
special adaptor, for protecting wiper arm hose
How to use the tool:
This tool for the removal of rear windscreen wipers is designed to enable the simple removal of all types of rear wipers. The adaptor on the remover spindle is protected during work by the hose that supplies the cleaner fluid. The rod included in the set makes it possible to turn the spindle faster and, if greater removal force is required, to use a 13 mm wrench. The construction of the tool ensures its long service life.
use with wrench dimension 13
Documentation
More About Product
Profiles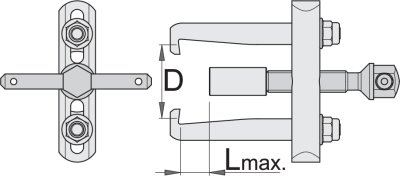 * Images of products are symbolic. All dimensions are in mm, and weight in grams. All listed dimensions may vary in tolerance.
Surface protection

Tools are made of excellent steel improved composition. Several models come with additional chrome surface protection.

Ergonomic handle

With ergonomic handles and a specially designed grip, surface Unior pliers provide maximum comfort at work and high efficiency with minimum strain.

High precision

With their perfect design and technological superiority, Unior automotive tools ensure a high precision hold in any instance of general or dedicated use.