Product features
How to use the tool:
Unior's universal spoke tension meter measures the spoke tension on any kind of spoke. The analog spoke tension meter arrives calibrated and ready to use. To use, simply press the handle, position the spoke between the two pins and release the handle. The properly designed gauge is easy to read. Measured value, needs to be checked in the spoke information table, from where you read the actual tension, based upon the spoke specification. The printed table is included with the tool, together with more precise usage instructions. Additional included feature on the tool is also a spoke thickness gauge, which helps with the whole process. Simply insert the spoke in one of the upper openings and read the spoken thickness value.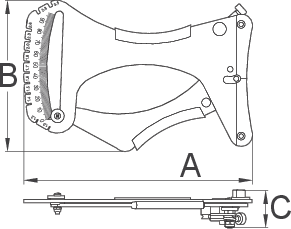 * Images of products are symbolic. All dimensions are in mm, and weight in grams. All listed dimensions may vary in tolerance.
New advanced technology

The use of new technological methods and top quality materials result in tools with a long life span, safety designs ensure repair jobs without damages, customized solutions, excellent effectiveness, modern materials and ergonomic design provide good looks and safe use.

Customized solutions for excellent results

Our solutions offer adaptability to the bicycle parts of all producers. Our tradition, our own design, and constant technical development and modern technology keep us one step ahead.

Excellent durability

Unior hand tools finish many jobs faster and make working in tight areas easier. They are adapted to work on the latest bicycle models.