Product features
The puller is a tool for quickly and precisely removing the headset crown race from 1", 1-1/8", 1-1/2" or 1-1/4" suspension or rigid front fork. To use, place the puller bush onto the front fork race and fix it by turning the nut. Turn the spindle attached to the steering column to pull the crown race from the fork. The product enables efficient race removal without the use of a hammer. It is intended for both professionals and enthusiasts.
material: premium flex plus carbon steel
surface finish: blacken to standard DIN 50938
safe to use on aluminum, steel, titanium or carbon steerer tubes
Compatible with steerer tubes with maximum length of 380 mm
Collet for every steerer tube size from 1˝– 1.1/2˝
The entire system is packed in a custom cutout SOS foam tray, keeping things organized and clean
Documentation
More About Product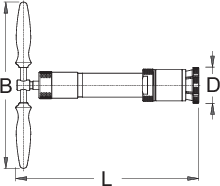 * Images of products are symbolic. All dimensions are in mm, and weight in grams. All listed dimensions may vary in tolerance.
New advanced technology

The use of new technological methods and top quality materials result in tools with a long life span, safety designs ensure repair jobs without damages, customized solutions, excellent effectiveness, modern materials and ergonomic design provide good looks and safe use.

Customized solutions for excellent results

Our solutions offer adaptability to the bicycle parts of all producers. Our tradition, our own design, and constant technical development and modern technology keep us one step ahead.

Excellent durability

Unior hand tools finish many jobs faster and make working in tight areas easier. They are adapted to work on the latest bicycle models.