Combination wrench, short type
Documentation
More About Product
Product features
The wrench is forged from premium chromium-vanadium steel. The wrench is distinguished by its exceptional toughness, durability and surface protection, which offers the user reliable and long-lasting use. It is an all-round solution for screwing bolts and nuts and an indispensable tool for professionals and DIY enthusiasts alike.
material: premium chrome vanadium steel
drop forged, entirely hardened and tempered
surface finish: chrome plated according to ISO 1456:2009
ring part with LIFE profile
made according to standard ISO 7738 (only metric dimension)
made according to standard ISO 3318 in 3113A (only metric dimension)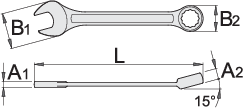 * Images of products are symbolic. All dimensions are in mm, and weight in grams. All listed dimensions may vary in tolerance.
Long lifespan

The wrenches are made of Premium chrome vanadium steel with a greater density at the points of the highest pressure, and such dimensioning and manufacture only increase their extreme power and durability.

Safety cut

With their special safety cut, the wrenches prevent the damaging of corners and edges of the screws and nuts by distributing the force evenly over the surface away from the outer lines of the nut or screw head instead of directly on the edges.

Innovative design

State-of-the art design makes Unior wrenches guarantee an accurate and efficient transfer of force to screw heads and nuts.