Screwdrivers
TBI handles for screwdrivers are composed of three layers, namely:
1. layer
black PP (polypropylene) which surrounds the stem of the screwdriver and is extremely solid, preventing the turning of the screwdriver stem in the handle at high torque
2. layer
blue PP (polypropylene) which surrounds the 1st layer of the handle is very stiff and ensures the constant shape of the handle under various environmental effects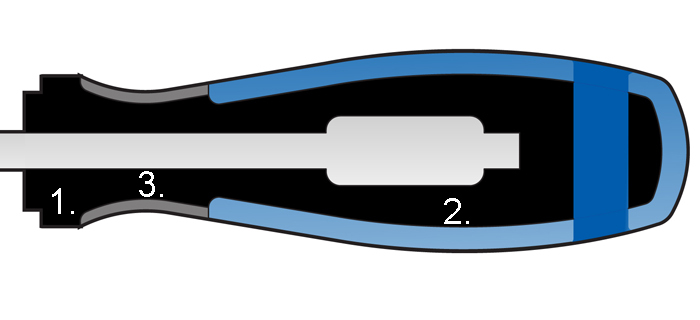 3. layer
grey TPE (thermoplastic elastomer) which partially surrounds the 2nd layer of the handle is a medium-strength material that gives the handle its final ergonomic shape, ensures a pleasant and non-slipping grip and thereby the achievement of high torques

Able to fit a variety of screw profiles and exhibiting innovative three-component handles, UNIOR screwdrivers ensure great efficiency and a slip-proof grip.
Unior screwdrivers are made of premium hard chrome vanadium steel. The surface is additionally protected with quality nickel and/or chrome plating. The superior quality of materials used for Unior screwdrivers is complemented by well-thought ergonomically designed handles to provide the best possible grip.
With its combination of soft and hard surfaces, the special, three-component handle – a Unior patent – ensures comfort and efficient performance with minimum strain on the wrist while working. The soft material ensures maximum gripe even when oily.
Along with the varied consistency of the plastic handle practically eliminating the danger of the screwdriver slipping in the hand, the improved grip also ensures greater torque. This can also be achieved by inserting a rod in the perforation added with this purpose to all handles functioning also as a hanging hole for handier storage.