Long nose pliers with side cutter
Product features
material: premium plus carbon steel
drop forged, entirely hardened and tempered
cutting edges induction hardened
head surface finish: finely ground
surface finish: phosphated to standard ISO 9717
heavy duty plastic handles
gripping surface serrated
made according to standard ISO 5745
also for clenching and separating of from cables and other sensitive objects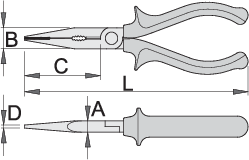 cutting capacity (10N=1kg)
| | | | |
| --- | --- | --- | --- |
| 608712 | 140 | 1,6 | 2,0 |
| 608713 | 160 | 1,6 | 2,0 |
* Images of products are symbolic. All dimensions are in mm, and weight in grams. All listed dimensions may vary in tolerance.
Questions & Answers
The head profile on the screw has deformed to such an extent that it cannot be unscrewed with a screwdriver. Which Unior tool can be used in this case?

407/4DP screw pliers are the best choice for unscrewing screws with a damaged head profile.
Ergonomic handles

With ergonomic handles and a specially designed grip, surface Unior pliers provide maximum comfort at work and high efficiency with minimum strain.

Surface protection

The pliers are made of excellent steel with special improved composition. Several models come with additional chrome surface protection.

High precision

With their perfect design and technological superiority, Unior pliers ensure a high precision hold in any instance of general or dedicated use.