Product features
material: premium chrome vanadium steel
drop forged, entirely hardened and tempered
working surfaces induction hardened
surface finish: chrome plated according to ISO 1456:2009
heavy duty double - component handles
Advantages:
Toothed jaw is designed to ensure optimum grip of an object.
Jaw aperture adjustable in 10 positions.
The HPP pliers have a button for fast regulation of the jaw's gap which enables fast and precise adaptation of the jaw to the wanted grip of the work piece.
Extreme grip strength: The design and shape of the pliers' jaws enable, despite the slim construction, better grip strength of the work piece, which results in stability, work safety, and greater effectiveness.
Finish: pliers are drop forged from high quality tool steels and heat treated
Work: due to the slim construction, the jaws enable one-handed work in difficult-to-reach places
Made of double-component material which reduces slipping of the hand during work and so enable safe and effective transmission of power from the hand to the pliers' jaws
Ergonomics: handles are designed to fully adjust to the user`s hand and so enable greater handling and work safety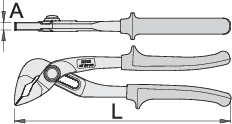 * Images of products are symbolic. All dimensions are in mm, and weight in grams. All listed dimensions may vary in tolerance.
Numerous additional parts

The range of pipe wrenches is complemented by other tools dedicated to pipe-work installations, such as various tube cutters and vices, flaring tools, test pumps for pipe-work.

Ergonomic shape

The special grip pipe wrench, thanks to its ergonomic shape, always fits in your hand perfectly while performing a firm, non-slip clasp on tubes regardless of their shape or width.

Easy installing

Unior pipe and tubing tools allow safe and efficient installing of plumbing systems, as they transfer much of the additional force onto the pipes and provide a strong and steady hold without nuts or bolts.