Variable joint "HYPO" pliers
Documentation
More About Product
Product features
material: premium chrome vanadium steel
working surfaces induction hardened
surface finish: chrome plated according to ISO 1456:2009
heavy duty double - component handles
drop forged, entirely hardened and tempered
Advantages:
The Hypo pliers are self-adjusting for which it is not necessary to preset the width of the jaws.
one hand self-adjusting operation
The pliers adapt perfectly to the work piece.
maximum jaw aperture up to Ø40 mm.
The locking mechanism enables easier storage when the pliers are not in use.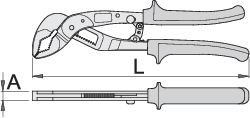 * Images of products are symbolic. All dimensions are in mm, and weight in grams. All listed dimensions may vary in tolerance.
Ergonomic handles

With ergonomic handles and a specially designed grip, surface Unior pliers provide maximum comfort at work and high efficiency with minimum strain.

Surface protection

The pliers are made of excellent steel with special improved composition. Several models come with additional chrome surface protection.

High precision

With their perfect design and technological superiority, Unior pliers ensure a high precision hold in any instance of general or dedicated use.