Stand for motorcycle wheel alignment
Product features
material: premium plus carbon steel
lacquered housing, other parts zinc plated
the stand is intended mainly for use in motorbike repair services and for home users
Advantages:
the stand has a spirit level for setting in a horizontal position
it enables radial control of the rim position with a sensor
The geometry of the callipers enables a simultaneous axial control for accurate truing of the rim.
The stand enables fixing of cones to the axis that enable the centring of the wheel on its own bearings, thus preventing the possibility of centring errors.
it has two positions for setting columns regarding the width of the hub
the rotation of the axis on external bearings enables centring on the standard method
Usage:
Wheels with dimensions to max 32 inches can be centered.
for axis dimensions of 12 to 36 mm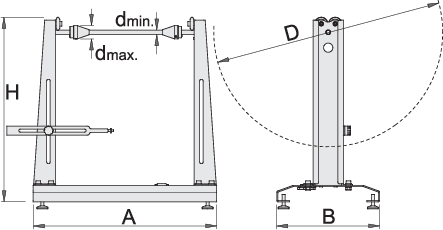 * Images of products are symbolic. All dimensions are in mm, and weight in grams. All listed dimensions may vary in tolerance.
Surface protection

Tools are made of excellent steel improved composition. Several models come with additional chrome surface protection.

New advanced technology

The use of new technological methods and top quality materials result in tools with a long life span, safety designs ensure repair jobs without damages, customized solutions, excellent effectiveness, modern materials and ergonomic design provide good looks and safe use.

Top Quality Materials

The well-thought-out design and precise manufacture prevent damage to the objects being worked on even under a substantial load. With these characteristics, the effective Unior tools are the right selection for craftsmen who require quality and durable tools with a long service life.