Chain breaker, press and riveting tool for motorbike
Product features
material: premium flex plus carbon steel
surface finish: chrome plated to standard ISO 1456:2009
ergonomic heavy duty double component handle
Dimension of box: 321 x 198 x 54
Usage:
for DID chains with graduation 520, 525, 530 and 532
for Regina chains with graduation 520, 525, 530
for RK chains with graduation 520, 525, 530 and 532
compatible with most motorcycle drive chains
Disassembling the chain:
a robust set for disassembling a chain without any prior grinding of the pin
select the appropriate pin (diameter Ø3, Ø3,5 or Ø5 mm) and lower guide (Ø4 Ø5 or Ø6 mm) corresponding to the pin diameter on the chain
insert the pin into the tool, then position the tool on the chain link and rotate the tool until the chain pin falls out
Assembling the chain:
assemble the chain according to the manufacturer's instructions
select an appropriate set of pressing adaptors depending on the size of the plates (guide widths to 13.5 mm or 16 mm)
position the set into the tool. Place the tool on the connecting chain link and press the link by rotating the riveting tool using the handle until the plates and the chain are tightly connected
after the chain link and the plates have been successfully aligned, install the chain pin
You can choose from 3 types of riveting pins (type A, B or C)
place the riveting set into the tool and rotate the handle to cause a deformation of the head of the pin, so the diameter is between 5.5 to 5.8 mm as recommend the chain manufacturer's instructions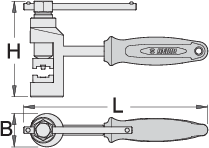 * Images of products are symbolic. All dimensions are in mm, and weight in grams. All listed dimensions may vary in tolerance.
Surface protection

Tools are made of excellent steel improved composition. Several models come with additional chrome surface protection.

New advanced technology

The use of new technological methods and top quality materials result in tools with a long life span, safety designs ensure repair jobs without damages, customized solutions, excellent effectiveness, modern materials and ergonomic design provide good looks and safe use.

Top Quality Materials

The well-thought-out design and precise manufacture prevent damage to the objects being worked on even under a substantial load. With these characteristics, the effective Unior tools are the right selection for craftsmen who require quality and durable tools with a long service life.