Rotor and sprocket holding tools
Documentation
More About Product
Product features
material: premium plus carbon steel
surface finish: chrome plated to standard ISO 1456:2009
ergonomic heavy duty double component handle
Advantages:
Due to its universal structure, it allows holding holes with a diameter of 5 or 9 mm and at a distance between 20 to 180 mm.
The tool also has a screw that enables fixing of the tool at the actual distance between holes on the magnet or the sprocket.
Usage:
The tool is designed for holding the magnet and the sprocket during assembly or disassembly.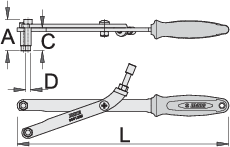 * Images of products are symbolic. All dimensions are in mm, and weight in grams. All listed dimensions may vary in tolerance.
Surface protection

Tools are made of excellent steel improved composition. Several models come with additional chrome surface protection.

New advanced technology

The use of new technological methods and top quality materials result in tools with a long life span, safety designs ensure repair jobs without damages, customized solutions, excellent effectiveness, modern materials and ergonomic design provide good looks and safe use.

Top Quality Materials

The well-thought-out design and precise manufacture prevent damage to the objects being worked on even under a substantial load. With these characteristics, the effective Unior tools are the right selection for craftsmen who require quality and durable tools with a long service life.