Product features
this is used for screws on the heads of motors where car manufacturers prescribe that, as well as fastening the screws to the prescribed torque, fastening at a certain angle is also required
if your space is limited, you can also use an extension to obtain the required height
the scale is 360°, divided into 2° angles
How to use the tool:
hold the angle scale by its small handle to avoid rotation during screw joining, set the indicator to zero and then fasten the screw at the prescribed angle with another tool from the 1/2" product range (e.g. a hinge handle which is longer, because the forces are considerable)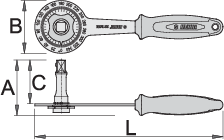 * Images of products are symbolic. All dimensions are in mm, and weight in grams. All listed dimensions may vary in tolerance.
Surface protection

Tools are made of excellent steel improved composition. Several models come with additional chrome surface protection.

Ergonomic handle

With ergonomic handles and a specially designed grip, surface Unior pliers provide maximum comfort at work and high efficiency with minimum strain.

High precision

With their perfect design and technological superiority, Unior automotive tools ensure a high precision hold in any instance of general or dedicated use.