Grip hose clamp pliers for stopping the flow of fluids
Product features
material: premium flex plus carbon steel
handles made from sheet metal
used for the stopping of the flow of oil, gasoline...
Advantages:
jaws are free of sharp edges, so that sensitive hoses do not sustain damage.
plastic moulded T handle enables improved grip for the user.
fast and simple stoppage of the flow of fuel and other liquids.
universal locking mechanism.
How to use the tool:
The tool for stopping the flow of fluids is an indispensable tool when changing various automotive parts connected with liquid-bearing hoses. The tool's main function is the stoppage of the flow of various fluids in soft hoses so that a mechanic can replace a certain car part without interruptions or worrying over a potential spillage. The tool can be used on soft hoses in cars, trucks, farming machines as well as various nautical vessels, however, the hose diameter may not exceed 55 mm at any time, as in that case the stoppage of the flow is not guaranteed.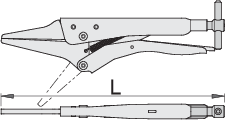 * Images of products are symbolic. All dimensions are in mm, and weight in grams. All listed dimensions may vary in tolerance.
Ergonomic handles

With ergonomic handles and a specially designed grip, surface Unior pliers provide maximum comfort at work and high efficiency with minimum strain.

Surface protection

The pliers are made of excellent steel with special improved composition. Several models come with additional chrome surface protection.

High precision

With their perfect design and technological superiority, Unior pliers ensure a high precision hold in any instance of general or dedicated use.