Roller-type stud extractor
Product features
material: premium flex chrome vanadium steel
surface finish: chrome plated according to ISO 1456:2009
Advantages:
roller system grips on to stud, in both directions
How to use the tool:
1. Position roller-type stud extractor on stud
2. START turning stud extractor COUNTER CLOCK wise
3. When stud removed, simply pull down stud extractor
Important!
Do not use roller-type stud extractor for tightening!
Studs are screws without a surface that can be gripped, which prevents their removal without damaging them. This tool is intended to do exactly that – removing studs without damaging the threads. The tool works through a system of three rollers that grip the stud at three points during removal, removing the stud without damaging it. The three rollers have no sharp edges, enabling removal without causing damage as they. Despite this, the tool can work in both directions. Tightening with the tool is not recommended though as the increased force in tightening could damage the system of rollers, which are dimensioned solely for loosening.
Documentation
More About Product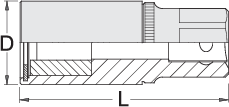 * Images of products are symbolic. All dimensions are in mm, and weight in grams. All listed dimensions may vary in tolerance.
Surface protection

Tools are made of excellent steel improved composition. Several models come with additional chrome surface protection.

Ergonomic handle

With ergonomic handles and a specially designed grip, surface Unior pliers provide maximum comfort at work and high efficiency with minimum strain.

High precision

With their perfect design and technological superiority, Unior automotive tools ensure a high precision hold in any instance of general or dedicated use.