Documentation
More About Product
Product features
material arms: carbon tool steel
for removing plastic fuel tank nut
for assembling or disassembling
Advantages:
quick griping of fuel tank nut
How to use the tool:
This tool has three removable hooks that grip the fuel tank cap firmly so it does not move. As access to this cap is usually difficult when making replacements, the tool is constructed so that it requires minimum space. Simply place the tool on the cap and rotate in the appropriate direction. The tool adapts to the cap itself and the cap can then be removed very quickly. The replacement of the cap is also straightforward. This tool ensures safe work and a long service life.
Important!
use with socket or wrench dimension 22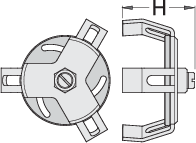 * Images of products are symbolic. All dimensions are in mm, and weight in grams. All listed dimensions may vary in tolerance.
Handy

The wide range of tools are intended for various target groups of users. Clamps ensure quick and simple clamping. The cutting and grinding wheels are designed for working both tough and soft metals, plastics, etc.

Strong Grip

Strong Grip the Unior tools are distinguished by providing a strong grip on the objects being worked on without injury. The guides in the clamps enable the accurate movement of jaws with the quick movement handle. Installation on rotating bases ensures that it adapts to the object being worked on.

Top Quality Materials

The well-thought-out design and precise manufacture prevent damage to the objects being worked on even under a substantial load. With these characteristics, the effective Unior tools are the right selection for craftsmen who require quality and durable tools with a long service life.