Product features
material: premium chrome vanadium steel
coated with electro-black oxide finish for rust protection
for assembling or disassembling oil filters
for oil filters in restricted access area
used with ratchet 3/8" and proper extension bar
How to use the tool:
This tool comes in as many as 12 sizes, which can be used on the majority of standard car and motorbike oil filters on the market. Using it is simple as all that is needed is to place the appropriate tool on the filter and rotate it with ease. The tool can also be used when fitting oil filters as the design and material have been carefully selected so that the tool can withstand the maximum force applied to it. Because of the surface protection, the tool is highly resistant to scratches and damage as well as to atmospheric and chemical effects.
Documentation
More About Product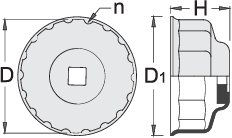 * Images of products are symbolic. All dimensions are in mm, and weight in grams. All listed dimensions may vary in tolerance.
Surface protection

Tools are made of excellent steel improved composition. Several models come with additional chrome surface protection.

New advanced technology

The use of new technological methods and top quality materials result in tools with a long life span, safety designs ensure repair jobs without damages, customized solutions, excellent effectiveness, modern materials and ergonomic design provide good looks and safe use.

Top Quality Materials

The well-thought-out design and precise manufacture prevent damage to the objects being worked on even under a substantial load. With these characteristics, the effective Unior tools are the right selection for craftsmen who require quality and durable tools with a long service life.