Crank puller for Shimano® XTR FC-M970
Product features
material: premium flex plus carbon steel
How to use the tool:
The crank puller is used for removing XTR FC-M970 cranks. To use, remove the plastic ring on the outside of the crank by using four pins on the left puller side. Unthread the nut on the inner crank side with the plastic clamp. Thread the puller with its right side into the crank and use a hex wrench to unthread the nut holding the crank. Now thread the puller, attached with its inner side to the crank nut until it is released from the crank. The product enables optimal efficiency and is suitable for both professionals and enthusiast mechanics.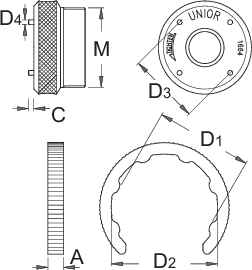 * Images of products are symbolic. All dimensions are in mm, and weight in grams. All listed dimensions may vary in tolerance.
New advanced technology

The use of new technological methods and top quality materials result in tools with a long life span, safety designs ensure repair jobs without damages, customized solutions, excellent effectiveness, modern materials and ergonomic design provide good looks and safe use.

Customized solutions for excellent results

Our solutions offer adaptability to the bicycle parts of all producers. Our tradition, our own design, and constant technical development and modern technology keep us one step ahead.

Excellent durability

Unior hand tools finish many jobs faster and make working in tight areas easier. They are adapted to work on the latest bicycle models.