Pneumatic angle die grinder
Product features
free speed 20000 revolution per minutes
maximum air pressure: 6,2 Bar
air consumption 113 l/min
Advantages:
this angle edition enables access to difficult-to-reach places which normal grinders cannot reach
safety lever which prevents accidental turn-on
simple clamping of thin cut-off wheels (grinding/polishing pins) and other parts/ extensions
extreme power based on size
continuously variable regulation of rpm
Usage:
cleaning of concrete and wall surfaces
cleaning of wooden surfaces
removal of colours and varnish
grinding of gears and coils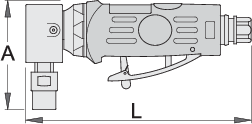 * Images of products are symbolic. All dimensions are in mm, and weight in grams. All listed dimensions may vary in tolerance.
Safety tips

The pressure in the tool during the operation has to be at least 6.2 bar for the tool to work properly.
Regularly clean and dry the air filters and inlet air supply.
Always use clean and dry air with the correct mixture of oil, for maximum tool life.
Check the joints and ensure that the tubes and other equipment are not damaged before use.
All tools should be gently oiled prior to being stored.
Always store pneumatic tools in dry places away from water.
Always use original spare parts.
Repairs can be performed only by authorised staff people authorised by Unior d.d.

Always disconnect tools not in use from the air supply.
Ergonomic grip

Unior air tools feature an ergonomic grip for easy handling, while their robust casing guarantees a long lifespan even under the toughest job-site conditions. The superior quality materials and the high-precision make of the drive mechanism vouches for its perfect operation at high torque, while the operating heads of the tool are heat-treated to withstand great loads and long use.

Efficient execution

Thanks to the power of compressed air, Unior pneumatic tools enable a quick and simple, safe and efficient execution of various jobs. Dedicated tools facilitate work in car repair shops, and the construction and timber industries.

Highest safety standards

Unior air tools are distinguished by their high quality and safe operation meeting the highest safety standards. Their simple use makes the tools suitable for DIY as well as professional users, who can choose among various pneumatic ratchets, air hammers and sets containing different accessories and add-ons.