Product features
free speed 10000 revolution per minutes
maximum air pressure : 6,2 Bar
air consumption 212 l/min
Advantages:
the ergonomic shape of the handle enables good grip and prevents gliding
suitable for lefthanders as well as for right-handers
silent and powerful drive
exhaustion of parts into a bag for a cleaner workplace
flexible and robust pipe for cleaning dust
it does not leave edges on the working platform
better work conditions due to minimal vibrations
extreme power based on its weight (1.2 kg)
Usage:
preparation of different working platforms for further process
ideal for grinding construction steel, metals and wood
The basis of sander is VELCRO™ system which is: quick, simple and safe to mount and unmount various sander pads. This system is being used for various occasions - the best known example is training shoes with VELCRO™ fastening.
More About Product
Profiles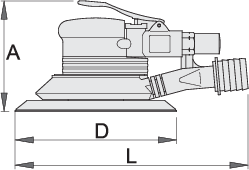 * Images of products are symbolic. All dimensions are in mm, and weight in grams. All listed dimensions may vary in tolerance.
Ergonomic grip

Unior air tools feature an ergonomic grip for easy handling, while their robust casing guarantees a long lifespan even under the toughest job-site conditions. The superior quality materials and the high-precision make of the drive mechanism vouches for its perfect operation at high torque, while the operating heads of the tool are heat-treated to withstand great loads and long use.

Efficient execution

Thanks to the power of compressed air, Unior pneumatic tools enable a quick and simple, safe and efficient execution of various jobs. Dedicated tools facilitate work in car repair shops, and the construction and timber industries.

Highest safety standards

Unior air tools are distinguished by their high quality and safe operation meeting the highest safety standards. Their simple use makes the tools suitable for DIY as well as professional users, who can choose among various pneumatic ratchets, air hammers and sets containing different accessories and add-ons.