Product features
measuring blade made from hardened spring steel, 40×1,2mm, with mm – graduation
The support blade made of black anodized aluminium profile, I-form 40×14mm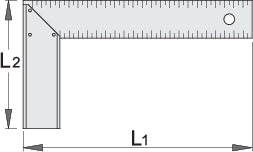 * Images of products are symbolic. All dimensions are in mm, and weight in grams. All listed dimensions may vary in tolerance.
Accuracy in measurement

Measuring tapes, torque wrenches with overload protection, Vernier callipers (digital as well), spirit levels, try-squares, mason's levels and feeler gauges are excellent representatives of accurate measuring instruments, without which a successful planning and execution of work is simply impossible to imagine.

Test-safe use

Measuring tools are precise and at the same time simple to use – both in general measurements with classic measuring tapes in different variants as well as in specific masonry and locksmith works, in gauging threads, etc.

Multiple versions

Unior precision tools are available in classic variants and state-of the- art digital versions with added timers and other features. All tools are designed and manufactured in accordance with the current international standards.