Team Ineos will use red Unior Bike Tools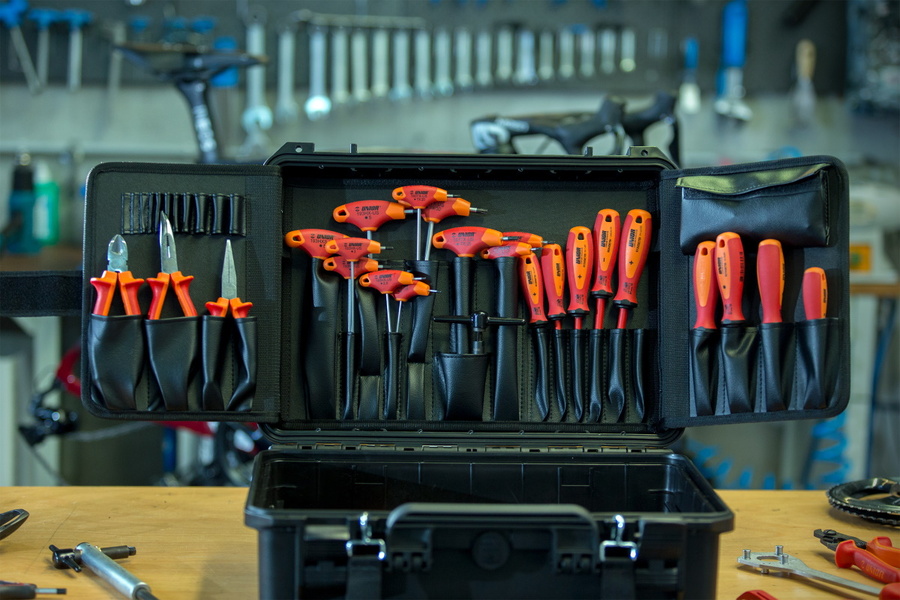 The Team that sets the bar for every other World Tour team will continue its partnership with Unior Bike Tools, but with a big visual change.
For the 2020 season Team Ineos will use red Unior tools! Unior tools are made in red for the North American market and are the same quality and function as the original blue handled tools. Unior tools are made in Unior's own factories in Europe.
Team Ineos also appointed Jeff Crombie as one of the team of mechanics, and this is what he said about the tools and his job in general:
Unior: Tell us about yourself and how did you find your way to Team Ineos?
Jeff: I first started wrenching for a pro team eight years ago in Canada. It was a small team, but I think this is how most people start and then I just kept working up the ranks. I like being in Europe and eventually I got here with Team Ineos. (Note: Jeff was already working as a freelance mechanic for Team Sky in the past.)
How do you see the importance of the mechanics on a team like Ineos?
It ís as critical as the riders training. If the guys are in good shape and the bike doesn't work, then it ís kind of waste of their effort. With everything in cycling it comes down to a team, so we have to work as hard as the riders train.
Do you see mechanics as the unsung heroes of the cycling world?
No, because we choose to do this job. Heroes would not choose to do this. It is more like a drummer in a band. It is not the most glorious thing in the world, but it's necessary. I think everyone who signs up know what they are getting themselves in to. If they don't, they've probably moved ahead to something else.
How would you describe your experience with Unior tools so far?
Working with Unior has been really good. Up to this point in my career I was able to just use whatever I could come up with so it's nice to have consistent quality options. I also like the fact that Unior provides more than bike tools. They provide solutions. Bike problems are not always fixed with bike tools. To be able to look at the catalogue and see other little bits that might be handy is very helpful.
You also had a chance to visit Unior's main factory in Slovenia. How was that for you?
It was amazing. The logistics and complexity of it all is amazing, it was great to see what it really takes to makes this stuff. I don't think you realize until you go there and see it. Even if it's a wrench that looks simple and functions simply, it is impressive what it actually takes to make it. Whether it might be forged or laser cut or machined the tool has to match the strength characteristics needed for the job. There is only one company in our industry that can do all of that in house.
What are in your opinion benefits of this cooperation for Unior; next to obvious exposure standpoint?
I hope the feedback helps. We get presented with some pretty unique situations that are not always easy to solve and especially not easily solved with just bike tools. We have to look outside of the bike program as well and that also helps Unior in understanding the needs of the mechanic.
Tell us about the relationship with the team riders; do they have a lot of specific demands or do they just want their bikes to be consistently perfect?
For me it's more of a psychological thing. They have faith in us. As soon as they get off the bike, they go eat and recover. They don't watch we do. It takes a lot of faith to just jump on the bike and race down a Grand Tour descent that fast. So for me the biggest thing is to work in a way that it instils trust for those guys, that they know that you're paying attention. They need to know that their bike is going to be perfect every time they get on so they can think about winning and not about the bike.
LINK: Team Ineos